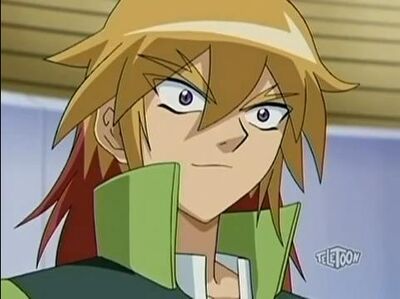 Jesse Glenn is a Gundalian from Bakugan Gundalian Invaders. Unlike in Gundalian Invaders, Jesse is a protagonist. Jesse is a member of Ren's Team. Jesse's Guardian Bakugan is Plitheon and his Battle Gear was Vilantor Gear. When Stoica tried luring Cyborg Helios out by battling Drago, Jesse stepped in to battle instead, but Stoica still managed to make Drago battle. When Naruto, Sonic and Drago lost control, Jesse tried to stop them, but was brutally attacked by an out of control Sonic. Jesse was hurt severely by his wounds and died. Jesse is revived by Psycho Kirby as a reward for defeating Dark Marth. In Season 10, Jesse was the only member of Ren's team to not get corrupted. In Season 22, Jesse is murdered by the psychopathic Meta Knight along with the rest of Ren's teammates. Jesse is later revived in order to stop Samus Aran.
Bakugan Collection
Edit
Note: Jesse mainly used the Ventus attribute.
Ventus Plitheon (Given to Ren, then returned to Jesse)
Jesse was the last member of Ren's team to be added to this wiki.
Jesse was the second member of Ren's team to die. The first was Sid Arcale (who had died before Super Smash Bros. Crossover). However, Jesse was revived while Sid was not.
Jesse has yet to reveal his true form willingly in the series.
Jesse is the first member of Ren's team to have an external link.
Jesse is the only member of Ren's team, other than Ren himself, that was not corrupted by Zombie Reed.
Jesse is the only member of Ren's team that never became an antagonist at any point.